I recently channeled several messages from a council of spirit elders for a small group of incredible women. During one part of the channel, in answer to a personal question, I was presented with an image of a shiny metal antique locket that I felt was in some way associated with time or times past. When I awoke, I drew a simplified illustration of what I saw for the woman who had asked the question. When she saw my drawing, she knew what it was. It took her a bit of time to find it, and when she did, she took a picture to share with me. I was amazed. Rarely do I get concrete positive reinforcement of this work that I do. This took my breath away.

With her permission, I'm sharing this story, in her words, with you. As she wrote to me: "[Everyone listening] was crying during this message… so it can translate to others as well." The elder that was speaking during this part of the channel was "Mother", the Mother spirit, epitome of the divine feminine.
I would like to thank J for sharing this story with all of us.
From J:
The question presented was in regards to an upcoming visit with my mom and spending time with her the week of her 89th birthday. Knowing that she did not want any birthday presents, I wondered how I could honor that but still give her a gift. In my heart, I was feeling that she still carried a lot of pain from her childhood and I wondered if there was any way that I could help ease that pain. So, the question was, "Is there anything that I can give my mom that will support her at this time in her life?"
The entire communication lasted about ten minutes and was this:

(Marit) "I have no idea what this means. Seeing a trinket of some sort… It feels like a remembrance of times past….of gratitude. I'm seeing a silver trinket…..silver? Something that means something to you. Round. Perhaps with a chain." Mother says…..
(Marit, clears her throat…..long pause….voice softens):
There is always room for more love. Easing someone's way, sometimes just a matter of standing by one's side. I remind you that everyone has their own journeys. All those who travel must ultimately do so alone. All we can do is love and support….within the boundaries of the relationship we create for each other. You are so giving. It is in your personal strength, growing your own light and power, that you can best give to her. Without that you will simply give it all away. When you are strong in your own light, you can give eternally. Always remember that she loves you, that this is the path you chose together, knowing full well… that sometimes the unheralded lesson that we forget is that we can only do so much, and that is exactly right. (She is putting out her hand. I am crying) It's okay. It's more than just your mother. It's about your daughter. About your husband. It's about finding your true heart center and, by nature, illuminating the path for others… and sometimes that is the greatest gift you can give.

– Mother
Later, when you were recovering from the trance, you mentioned that you thought the trinket was a locket. Until you drew it, I could not think of what it might have been. When I saw your drawing, though, I knew exactly what you were describing.
The funny thing is, when I went home to see my mom she asked about the watch out of the blue and wondered if I had ever given it to my daughter.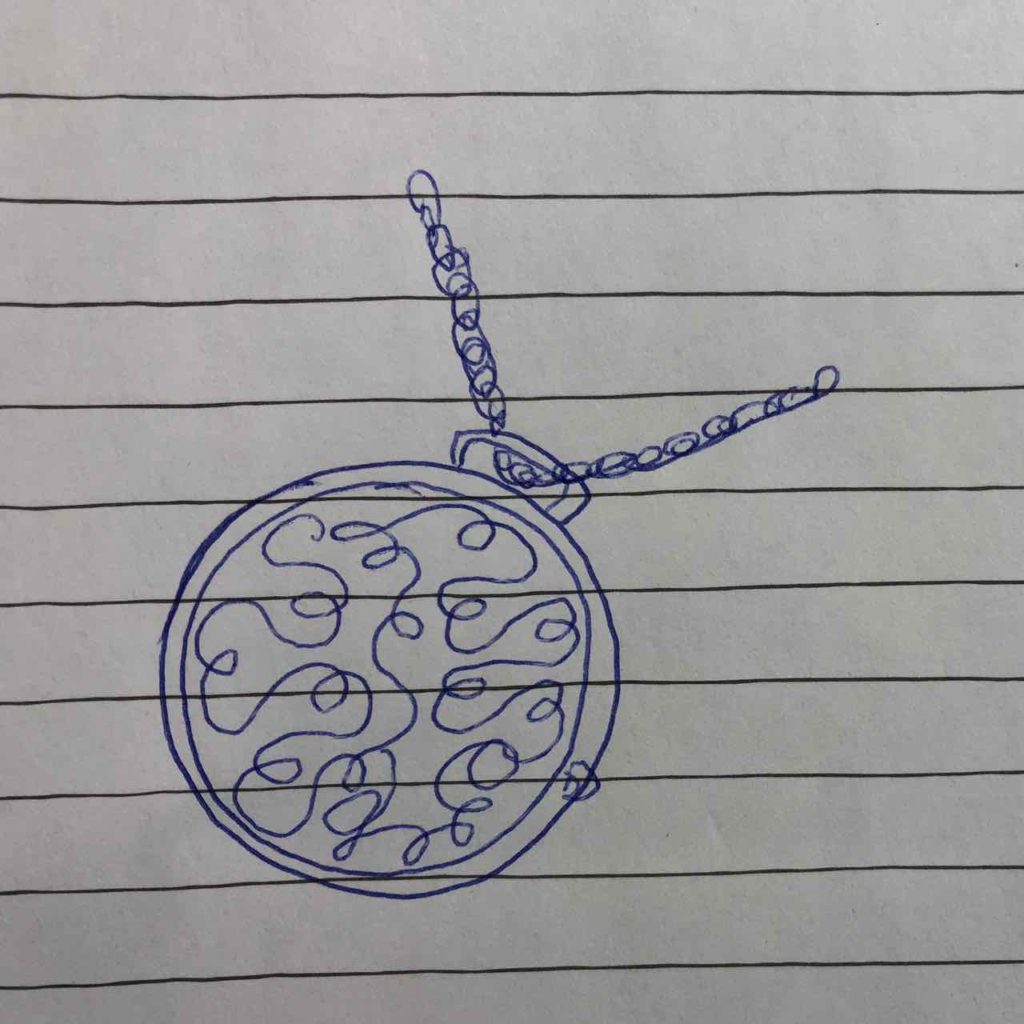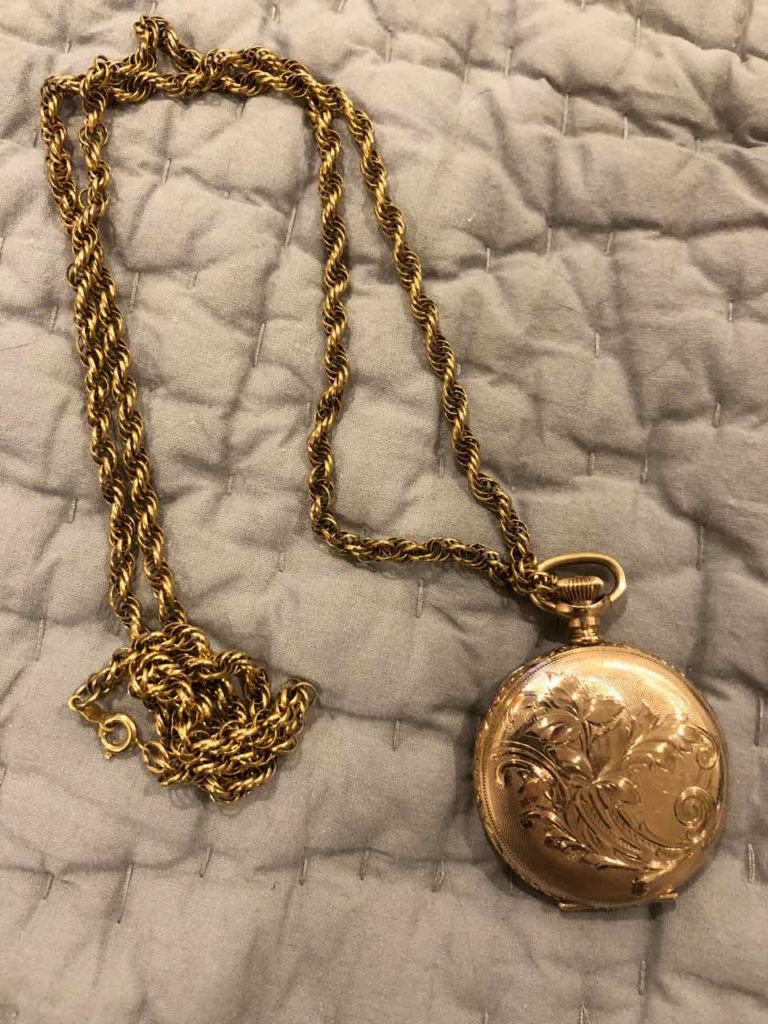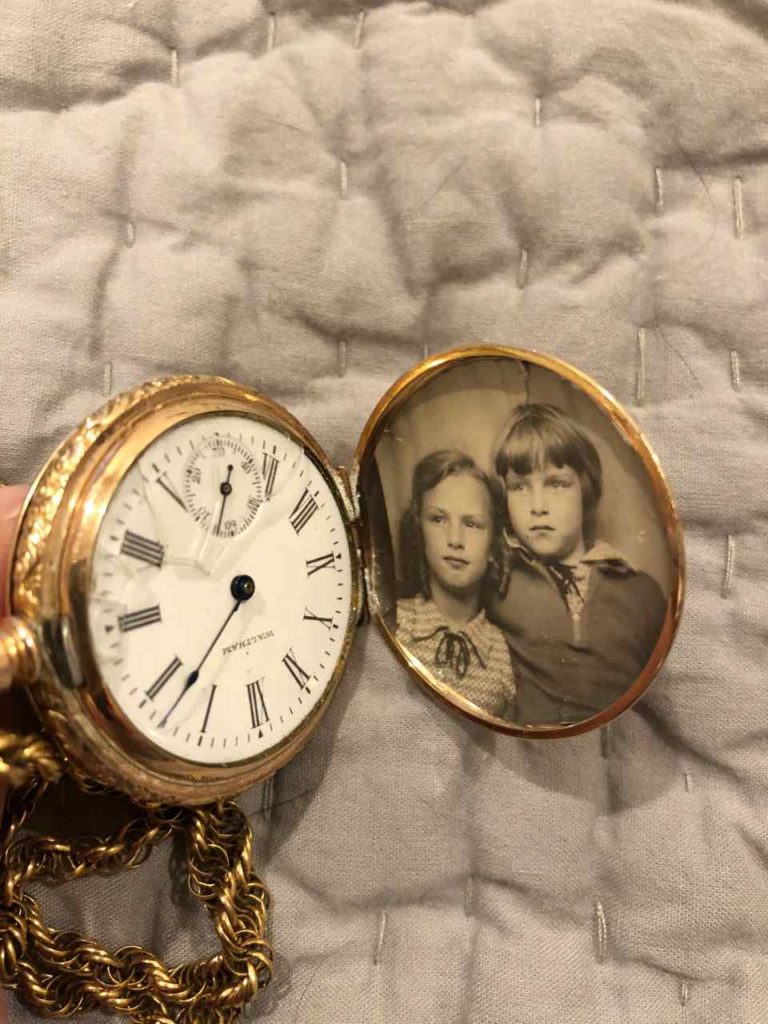 I wanted to share with you that I found the watch that Mother described to you during your trance and it is almost exactly as you drew and described it! AMAZING. The design is very organic and does have some scroll-like lines. It is, in fact, a locket on one side….my mom and her sister are in the photo…my mom on the right and her sister on the left.

– J