Come along on an upcoming Art in Nature Hike. We will begin each 2-hour experience with a nature walk, followed by a guided grounding meditation, and art therapy exercise. Take advantage of the quiet to feel yourself present on this Earth, right where you are.
Art in Nature Hike during Friends of the Bluff's "Brush on the Bluff"
Date: Saturday, May 21
Time: 2-4pm
Meeting Place: Polly Judd Park, near the Friends of the Bluff tent
Group Size: 16
Cost: FREE
Register HERE. You will be linked to the Friends of the Bluff website.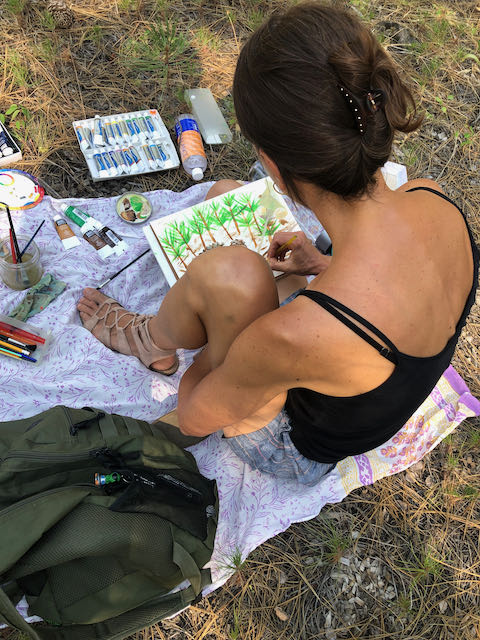 There's more to finding yourself in nature than just being outside. Join me for an art hike designed to ground and center you.
Take a short walk into the woods and then settle in on your blankets for a grounding and mindfulness exercise, followed by a brief lesson on the basic principles of drawing what you see. For 30 quiet minutes, you will focus your attention on the world near and around you to interpret whatever it is that catches your eye into a work of art. We will follow with the opportunity to share a conversation about the exercise.
This is a unique opportunity to appreciate our neighborhood nature in a new and personal way. All participants will be expected to be respectful of others seeking a quiet, connective experience. All ages are welcome. Children must be accompanied by an adult.
NOTE: If anyone with mobility challenges would like to participate, we will accommodate wholeheartedly. Please contact me or Friends of the Bluff to enquire.
What to Bring:
Shoes appropriate for hiking
Water
Snacks
Hat
Sunscreen
A notebook or sturdy drawing pad
Your drawing medium of choice (pencils, charcoal, pastels, crayons, watercolors)
A blanket or pad for sitting
Contact me.
If you are interested in a bespoke program for your business, group, or team, send me a note directly and let's make it happen.