Come along on an upcoming Art in Nature Hike. We will begin each 2-hour experience with a nature walk, followed by a guided grounding meditation, and art therapy exercise. Take advantage of the quiet to feel yourself present on this Earth, right where you are.
Finding Self in Place: Art in Nature Hike for Adults (15+)
Date: Sunday, August 29
Time: 9-11am
Meeting Place: The Spokane River Centennial Trail Trailhead North of Seven Mile Road on Riverside Park Rd.
Group Size: Limited to 10 people
Cost: $15 per person
Register: To join the group, please contact me directly.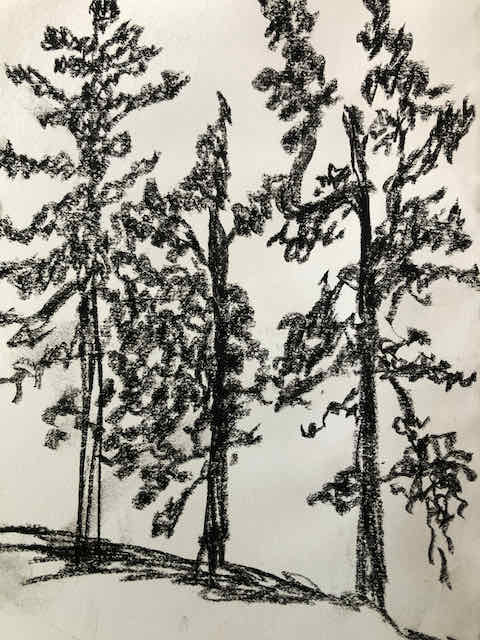 These past 18 months have been challenging for all of us. Grounding and gratitude are always important to our wellbeing, but they are a particularly potent remedy to our mental and emotional strain right now. This special hike is an opportunity for you to reflect on and appreciate the unique impacts this long year has had on you. It's a time to put yourself in nature and really check in. How are you doing? How have you grown and changed through your own unique challenges? What is newly true for you in this moment? Join me for a short walk to a quiet, shady spot near the Spokane River at Riverside State Park. Settle in on your blanket or pad for a grounding meditation followed by an explanation of the mindfulness exercise we will all practice — drawing what we see. We will follow with the opportunity to share our work and to witness each other's observations without judgment.
Route: We will walk along an easy trail along the Spokane River to a shady spot under the Ponderosas, no more than one mile each way.
What to Bring:
Shoes appropriate for hiking
Water
Snacks
Hat
Sunscreen
A notebook or sturdy drawing pad
Your drawing medium of choice (pencils, charcoal, pastels, crayons, watercolors)
A blanket for sitting
Mask (if you prefer)
For Your Consideration:
Following current CDC guidelines, masks are not required to maintain health and safety in outdoor settings. I will not be requiring masks for participants, though we will respect physical distancing protocols. I am keeping our group small to ensure everyone's comfort. Please know that everyone will honor and respect your personal choice to wear a mask if you feel more comfortable doing so. If you have any special health concerns or considerations that you would like me to be aware of, please let me know.
Contact me.
If the participation fee is ever a barrier to your joining us, please reach out me to discuss an alternative energy exchange.
If you are interested in a bespoke program for your business, group, or team, send me a note directly and let's make it happen.